Product Development
Creating the right product for your campaign or organization isn't as simple as just slapping your logo on something. Tigereye has been supplying clients with quality Union/USA-made products for over 30 years. We take an analytic approach to each situation to come up with a product that will completely suit your needs.
Identifying and Understand Your Need – No two product requests are exactly the same. We will never try to shoehorn your request into a standard offering that isn't what you want. After gathering all necessary information, our experts will make a recommendation that meets your needs exactly.
Creating the Design – Tigereye's in-house art staff serves two very important roles in the development process. First, we use our creative talents to design an attractive product that suits your needs. Second, we ensure that the art meets all applicable printing specifications so there are no costly surprises or hiccups in the process.
Sourcing – We make a lot of our products in our union shop. However, if we don't make what you need ourselves, we have built a network of trusted union suppliers that we can work with to make sure you get exactly what you want.
Quality Control – Tigereye has built our reputation on delivering the highest quality goods. Our quality assurance standards and pride in a job well done are staples of our business.
On-Time Delivery – Deadlines are everything in this fast-paced market. We'll make sure that your product is in your hands on-time, no matter what it takes.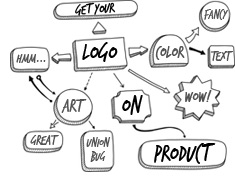 Do You Have a Custom Job You're Needing a Quote For?